Hair Loss for Women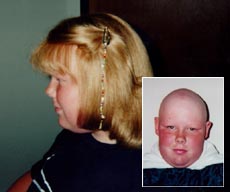 one of our young customers
Cancer-Related Hair Loss most trusted hair restoration center.
Dealing with hair loss can be emotionally devastating. Fortunately, Imaging International can help you find answers to all of your hair care needs.
Many people see their hair as a very important part of their appearance, and losing it can bring about strong emotions, such as anger and depression. After going through various cancer treatments, losing your hair may seem like the final straw. Fortunately, Imaging International has over 20 years of experience dealing with cancer related hair loss and we offer a wide range of private and completely discrete hair loss services for men, women and children.
WHAT WE PROVIDE:
Discrete and Confidential Hair Loss Consultations (FREE)
Caring and Nurturing Environment
Honest and Reliable Hair Loss Information
One Discounted Price for all Cancer Survivors
"CARE PROGRAM"
Hair Loss Evaluation
Help with Insurance Claims
24 Hour Hotline Number
2 Custom Made Hair Prosthesis (all human hair)
All hair care products included
Complimentary Follow up Visit for Each Hair Prosthesis
1st Hair Prosthesis made in Two (2) weeks/ 2nd Prosthesis made in 6 Weeks
What types of Hair Prosthesis will I receive?
Each Hair Prosthesis has 100% human hair and is specifically designed for your scalp.
Can I swim or go out on a windy day?
Hair Prosthesis's that are bonded onto ones scalp using a medical grade adhesive can be worn during swimming or on the most blustery day without worry.
Even units that are attached with clips, weaves, or tape should be fine as long as they are attached properly.
What is bonding?
Bonding is a form of semi-permanent, attachment by physically securing the Hair Prosthesis to your hair and/or scalp using various medical grade liquid adhesives. When your Hair Prosthesis is bonded, it cannot be taken off daily, but rather within 4-6 weeks.
How soon can I receive my hair prosthesis?
You can expect delivery for your semi-custom in one (1) week and delivery on your custom order in 8-10 weeks.
Normal deliver time for non-cancer clients is 10-12 weeks, however we give your order priority, which will allow us to deliver your hair Prosthesis much faster.
What is the value of the Hair Prosthesis?
Depending on the hair loss area, our prices start at $1,150.00 per hair system, not to mention the rush charge for order delivered within Six (6) weeks.
Our "CARE PACKAGE" includes two (2) hair prosthesis, all the hair care products needed and a rush status, which would normally cost well over $2500.00
"CARE PROGRAM" PRICE: $1799.00 plus tax
"Euro CARE PROGRAM" PRICE: Only $2199.00 plus tax
The "Euro Care Program" includes everything in the above "Care Program" with the addition of one (1) hair prosthesis with beautiful hand picked European hair.
Call (310) 575-4247 for more details